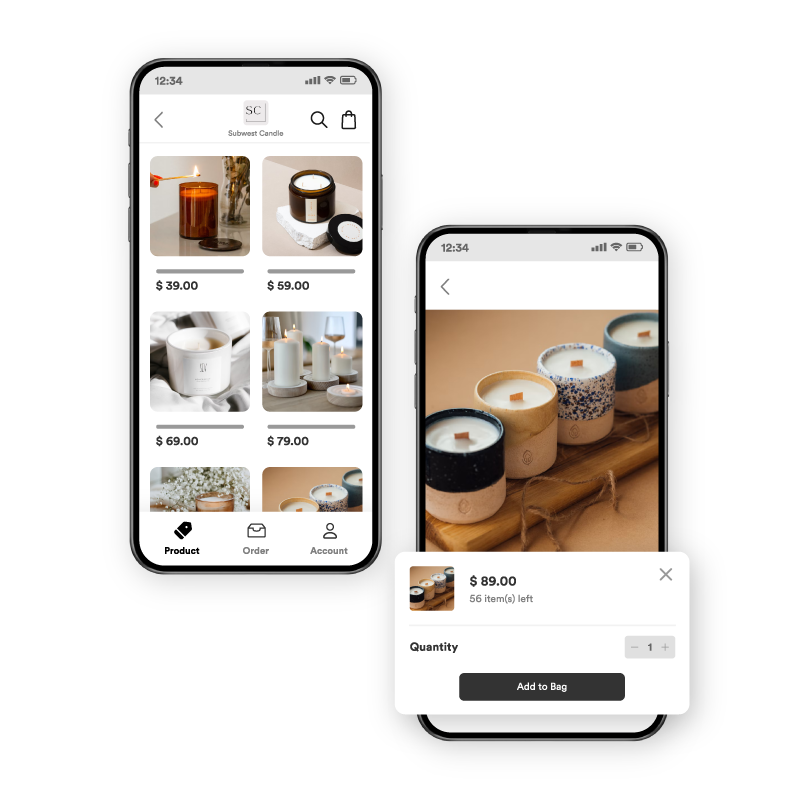 Your Store on Mobile - Shopping App
The Shopping app lets you drive more conversions and repeat purchases
Three Reasons You Should
Have Shopping App
Optimized sales for shopping experience

Create a direct mobile channel to provide shoppers with quick access to general info, shopping catalogue and manage loyalty program right at their fingertips

Outplay your competitor

Having a mobile app for a small business is becoming less common these days, and this is where you can gain an advantage over your competition.

Increase engagement

Simply accessible and get even closer to a direct interaction and stay connected to your customers wherever they go.
How Customers Buy From You on Shopping App
1. Search your business by entering store URL or scan QR code

2. Browse your store

3. Add products to bag

4. Login account to checkout

5. Get notified of orders at any time
Ten Features Your Must-Have
Shopping cart

Provide seamless mobile optimized shopping experience to your shoppers anytime, anywhere.

Easy login & register

Streamline the login process that allows your customers to shop without complex verification.

Advanced filter

Let your customers to quickly get desired information or products without having to browse your entire catalogue.

Payment supported

Accept payment directly and securely with available payment method/ gateway.

Order tracking

Provide real-time order tracking on app to eliminate order enquiries

Flash sales and discounts

Get customers coming back with attractive sales or discounts

Loyalty program

Reward your shoppers with incentive and shopping points upon their next purchase

Push notification (soon)

Reach out to your customers with the latest product information and promotion with just a single push

Product recommendation (soon)

Auto predict and recommend products that a user would like to purchase.

Coupon (soon)

Offer electronics coupon to encourage retails purchases
3 Simple Steps To Activate Shopping App
1. Simply enable Shopping App channel

2. Add your store details

3. Start selling on Shopping App!
What They Think About EasyStore
"It helps our customer to place order easily and for us to manage our store peacefully. No hassle, it's time efficient too! With just a few clicks you can twirl your business smoothly."

Sonya, Founder of COCO ONYA

www.thecocoonya.com



"Simple, user-friendly interface. Recommended for beginners. The best Malaysian alternative of Shopify. Able to build a real business."

Jun Qi, Co-founder of BengBeng Sourdough

www.bengbengsourdough.com

"When we started HERMANAS, we use WhatsApp and Instagram. It's hard to keep track thousands of messages. EasyStore cut us a significant amount of time and easy to manage."

Jue, Founder of Hermanas

www.hermanas.my