Do business with customer favorite chat apps
Higher conversion rate

Interacting with customers leads to understanding their needs and can offer the products that satisfy their needs.

Reduce cart abandonment

Keeping customers engaged and providing advice with order form can let customers focused on completing their purchases.

Target different customers

You can have different targeted sets of products that matched their preferences to motivate their buying intention.

Encourage repeat purchases

The ability to understand your customer often follows by greater customer satisfaction.

Auto-collect order details

All information is automatically stored which enables you to access, review, and learn customers' spending behaviour.
WhatsApp
Convert your WhatsApp conversation into sales. EasyStore WhatsApp Order Form helps to collect payment and gather customer information. It is a secured form that shows your products' name, price, and photos. The familiarities of WhatsApp interface encourages your customers to buy the products straight away.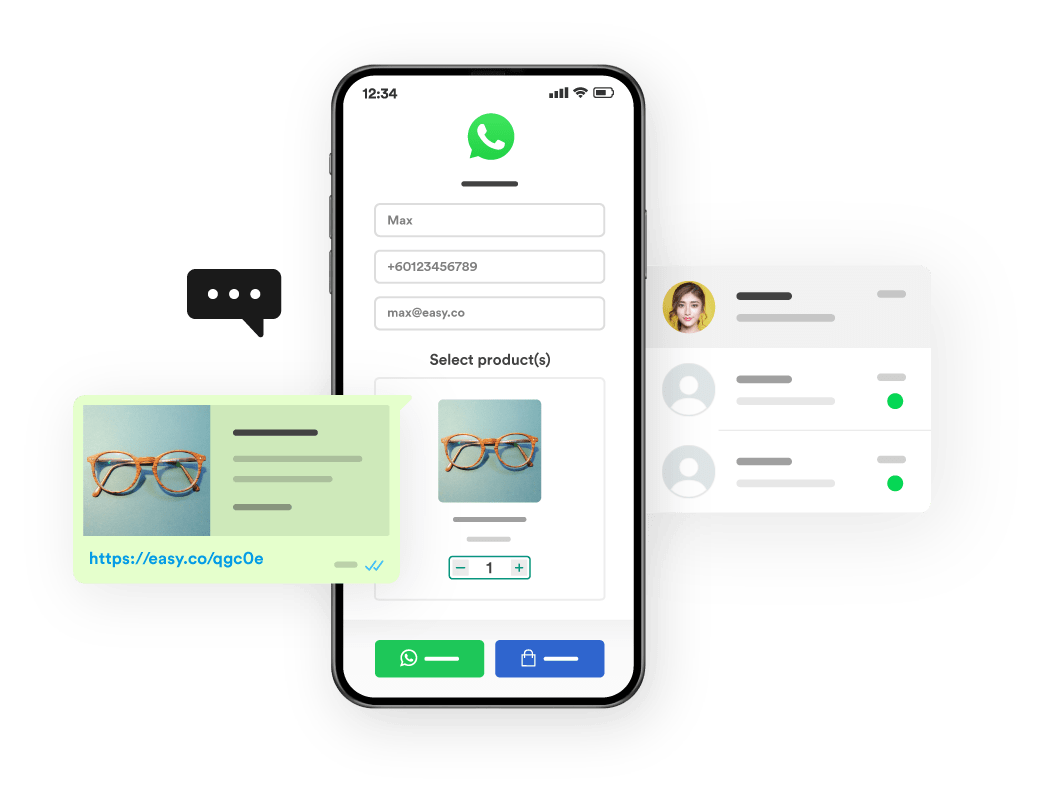 WeChat
Attract more customers on WeChat moment. Share your EasyStore WeChat Order Form on the moment to encourage your customers to buy the products straight away. It shows your products' name, price, and photos to let them browse and shop your products without leaving WeChat.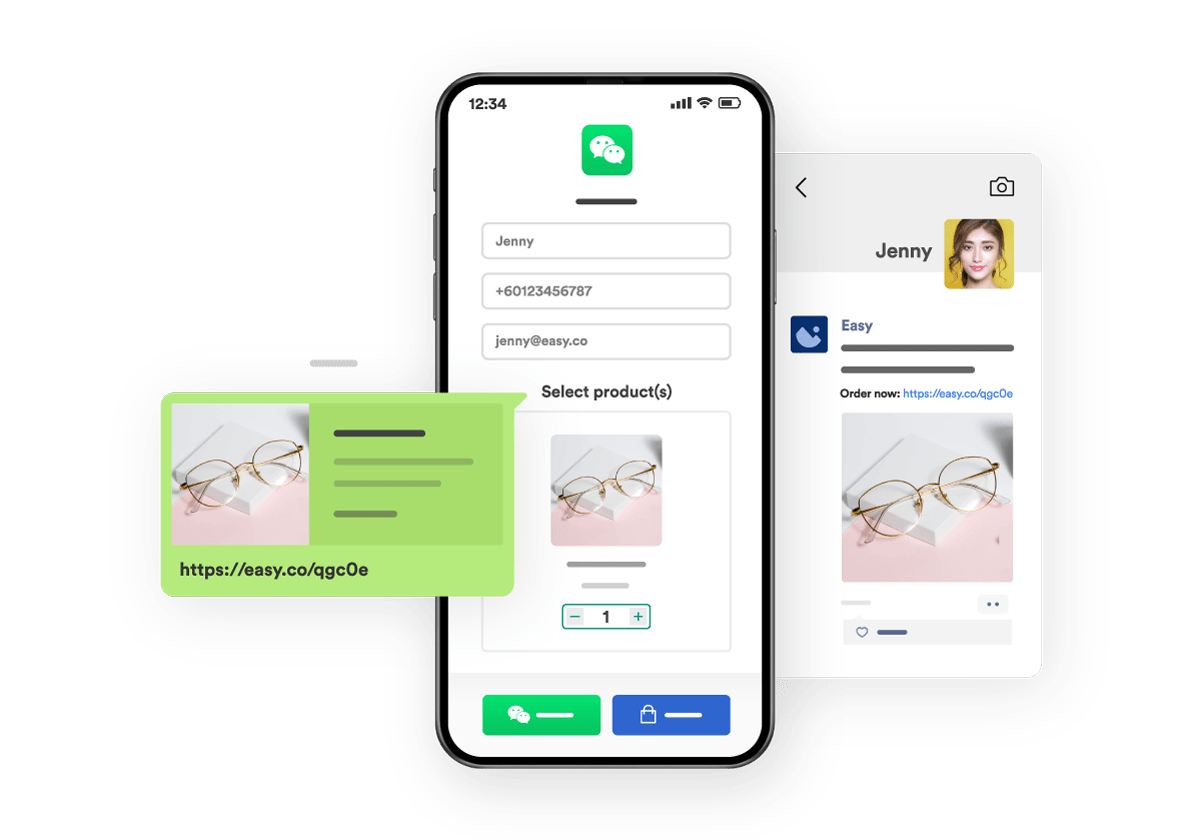 Telegram
Speed up your sales conversion on Telegram messenger. EasyStore Telegram Order Form equipped with sales order processing automation, complimented automated data and payment collection that enhanced customers' checkout experience.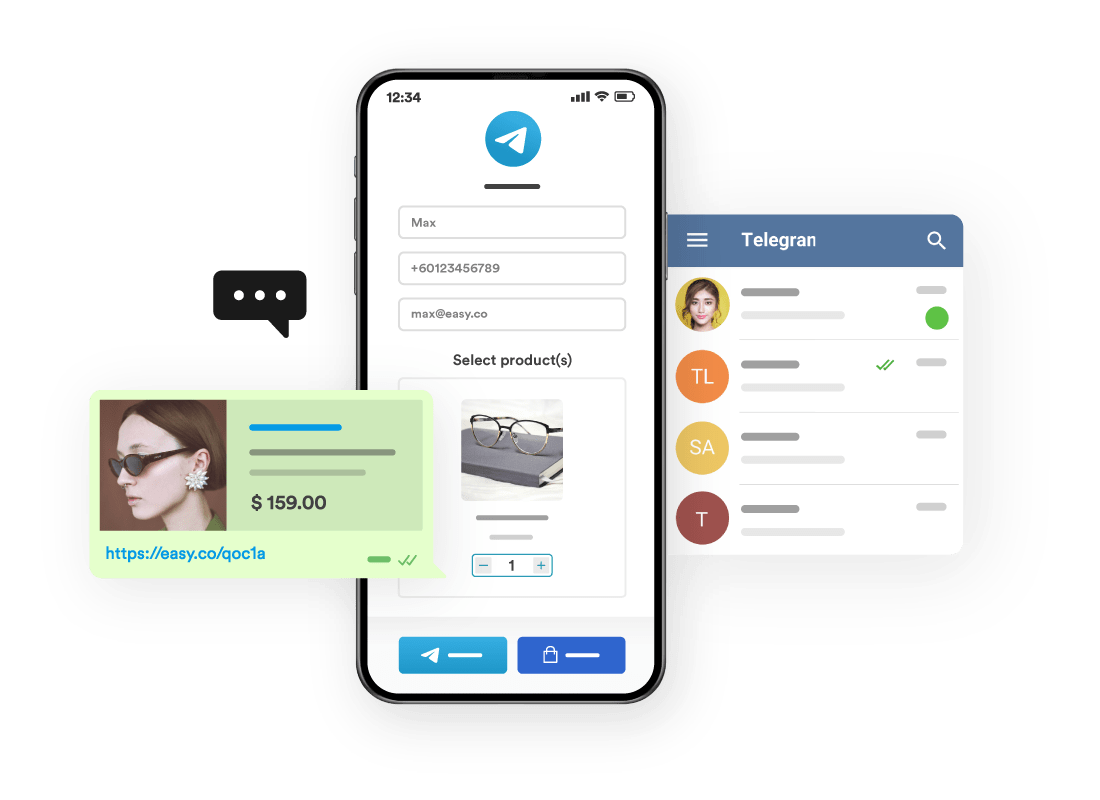 Essential features of chat commerce
Easy to set up

Just one minute and you can start selling right away now with a customizable order form, including your business name, product list and etc.

Familiar interface

Closing a deal is all about timing, where this minimizes the time for your customers to explore the new interface.

Referral program

Encourage more people to promote your products with referrals incentive via order form.

Abandoned order recovery

Get in touch with intended to buy customers by sending reminders on the order that they didn't complete.

Real-time notifications

Get notified on our Mobile App whenever an order is placed.

Multi-Currency

These order forms support multicurrency based on your customers' location.

Manage order anywhere

Quickly access to order form on your mobile devices to tailor the best order form according to your customer's needs.
Why businesses use EasyStore
We used to manage our business manually, switching between different platforms to manage our business. It was really disorganized. We don't have to do much with EasyStore because it will categorise which consumers originated from which platform for you.

Darasara

Raushan Yuzer — Founder

Previously we spent so much time and manpower doing stock count and inventory for every outlets. Now, we remove all the manual work and only allocate one person to manage the inventory, orders and product, because everything can be done in EasyStore.

Bayu Somerset

Mohamad Emir — Managing Director
Brands that love EasyStore