Modern solution for your retail business
A comprehensive solution designed specifically for retail businesses to manage sales, inventory, customer relationships, and more
Contact Sales
Chat with Us
Why Retailers use EasyStore
Customers nowadays want the convenience of shopping both in-store and online. EasyStore's retail solution helps us to easily expand to online channels and provide a seamless experience to our customers whether they are shopping at our stores, online store or marketplace.

Hisbrew Coffee

Josh — Josh

Previously we spent so much time and manpower doing stock count and inventory for every outlets. Now, we remove all the manual work and only allocate one person to manage the inventory, orders and product, because everything can be done in EasyStore.

Bayu Somerset

Mohamad Emir — Mohamad Emir
ONLINE MERGE OFFLINE
Retail and ecommerce
in one system
Product And Inventory

Changes made to product details or inventory levels will be automatically updated in all connected sales channels, ensuring consistency and reducing the risk of overselling or underselling.

Delivery And Pick Up

Provide smooth shopping experience for customers. They can place orders online and choose to either have their items shipped directly to them or pick them up in-store at their preferred outlets of yours.

Sales Transaction Overview

Real time view on incoming sales of both online and physical stores, making it easier for to identify trends, make informed decisions, and optimize your operations to maximize the revenue potential.

Customers Relationship Management

We consolidate the information such as customer details, transaction history, membership status in your EasyStore backend. This allows more streamlined approach to managing customer relationships.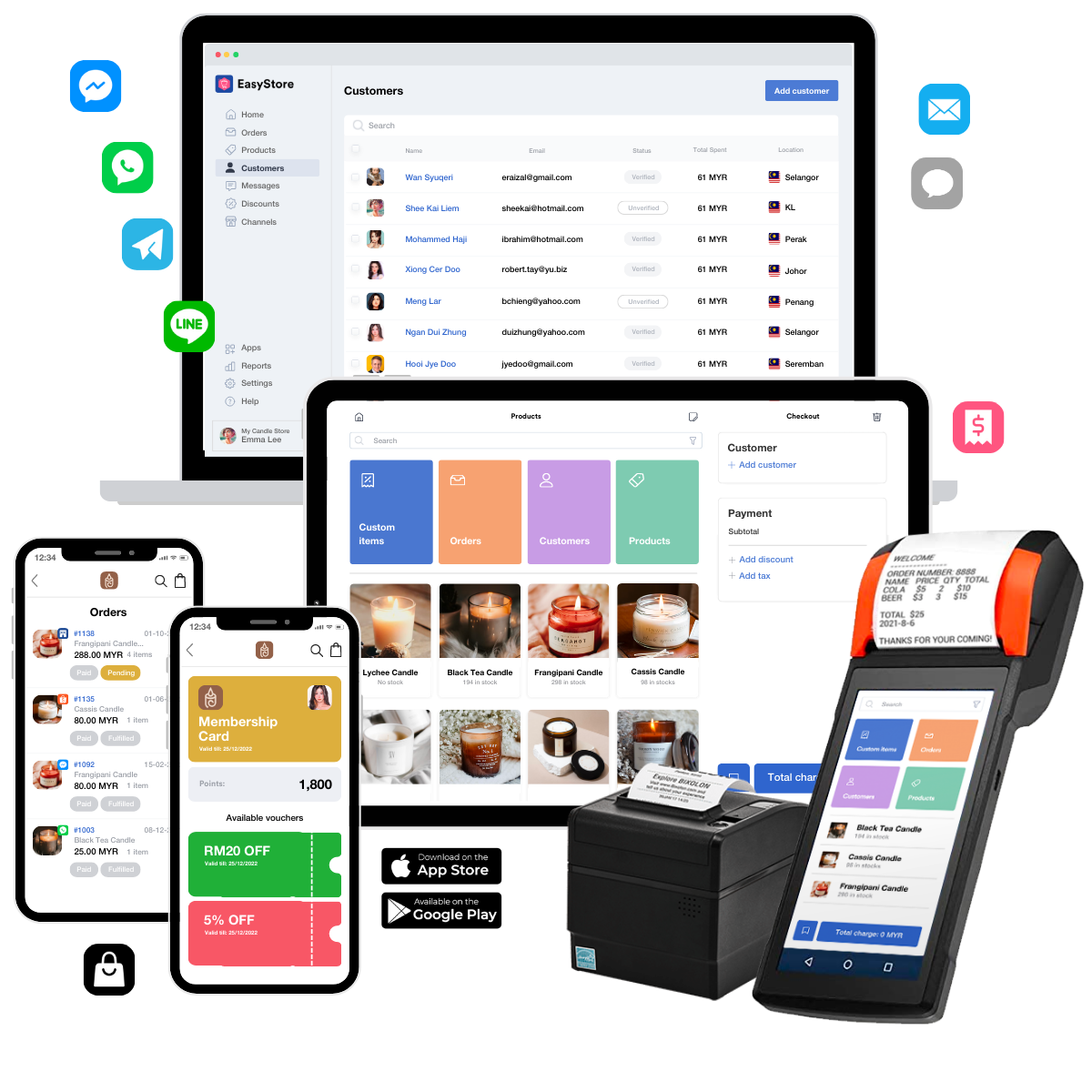 POINT OF SALE
Mobile point of sales (mPOS)
mPOS On-The-Go

Accessible from mobile phones, tablets, and desktops. Whether you're at a trade show, pop-up shop, or brick-and-mortar store, our mPOS is there to help you make sales and manage inventory.

Instant Cashier Anywhere

Open up a new cashier without bulky and expensive hardware. You can quickly respond to surges in customer traffic and provide faster service, ultimately increasing sales and customer satisfaction.

Go Green With E-Receipt

Choose the receipt delivery method that best suits your customers and the business needs. Print physical receipts on the spot or go paperless by sending e-receipts directly to your customers' email.

Built-In Scanner

Scan product and membership barcodes using the built-in camera or pair with an external scanner, which allows efficient cart creation, quick access to customer details to do business on the go.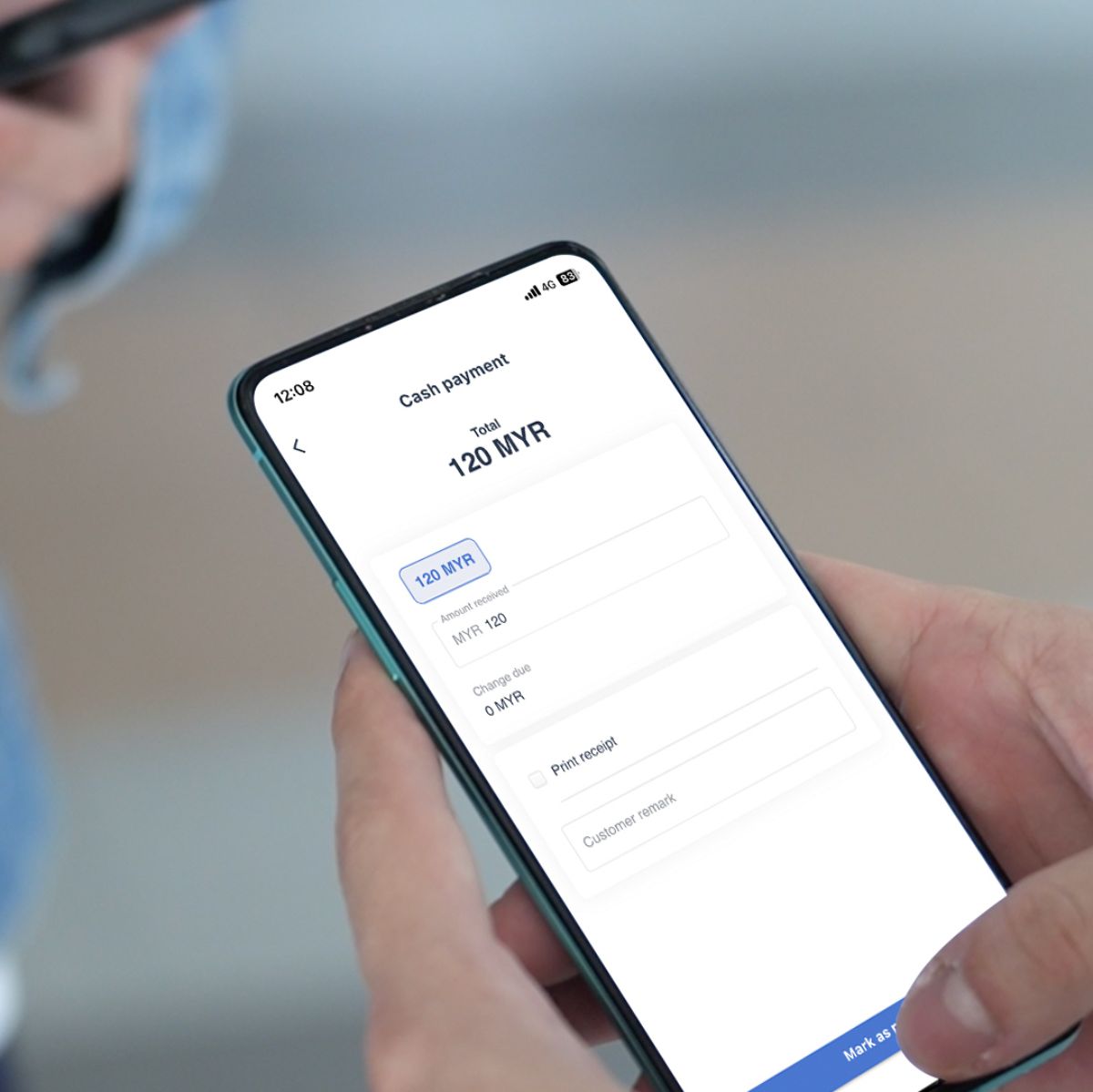 INVENTORY
Inventory management
- online and in-store
Multi-Location Inventory

Full control over stock allocation to meet customer demand while reducing the risk of overstocking. Assign stock to specific locations, allocating stock to outlets where it is most in demand.

Unified Inventory System

Streamline online sales channels and physical stores inventory. Any change made to the inventory in one channel will immediately update in other channels, reducing the risk of errors and discrepancies.

Stock Movement Reporting

A detailed view of how your inventory moves through the supply chain over time. This helps in adjusting order quantities, setting reorder points, and optimizing product assortments.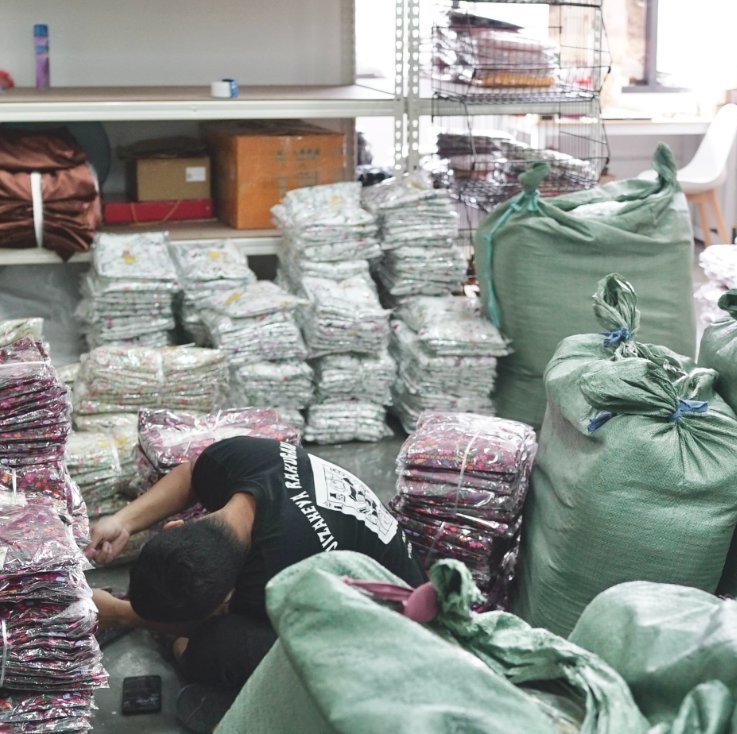 LOYALTY PROGRAM
Keep your customers
coming back
Unified Loyalty Program

Serve both online and physical store members with a single system. You can track and reward customer loyalty, including points, free gift, discount and vouchers based on their membership status.

Membership Tiering

You can assign customers into different tiers with personalized rewards based on their spending levels. This can encourage them making repeat purchases in order to reach the next membership tier.

Members Reward Tools

Create compelling loyalty program that incentivizes customers with rewards such as birthday voucher, points, referral program, to keep them staying with your brand and even become your ambassdors.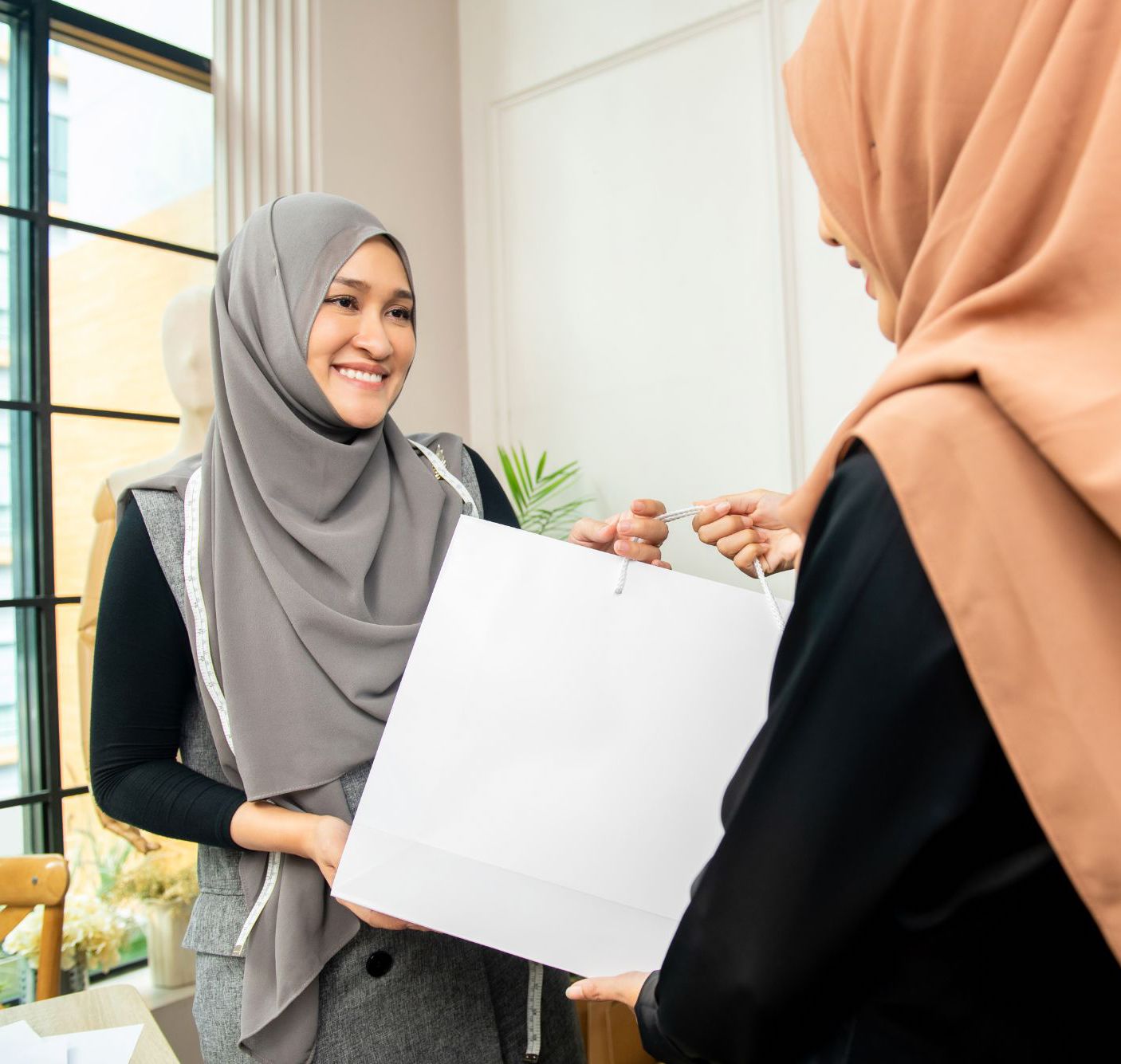 SHOPPING APP
Bridging the online
and offline with mobile
Membership Mobile App

Available on iOS, Android, and Huawei gallery devices. Customers can easily check membership status, track their progress towards the next membership tier and view their rewards anytime they want.

Shop Within App

Another sales channel for customers to make purchases. They can browse your catalog, place order, view their order history, alert with order delivery status and even reorder items by a click.

Mobile Push Notifications

Get closer to your customers than ever before, by sending targeted messages to customers based on their behaviour and preferences. It can be used to promote both online and offline sales and events.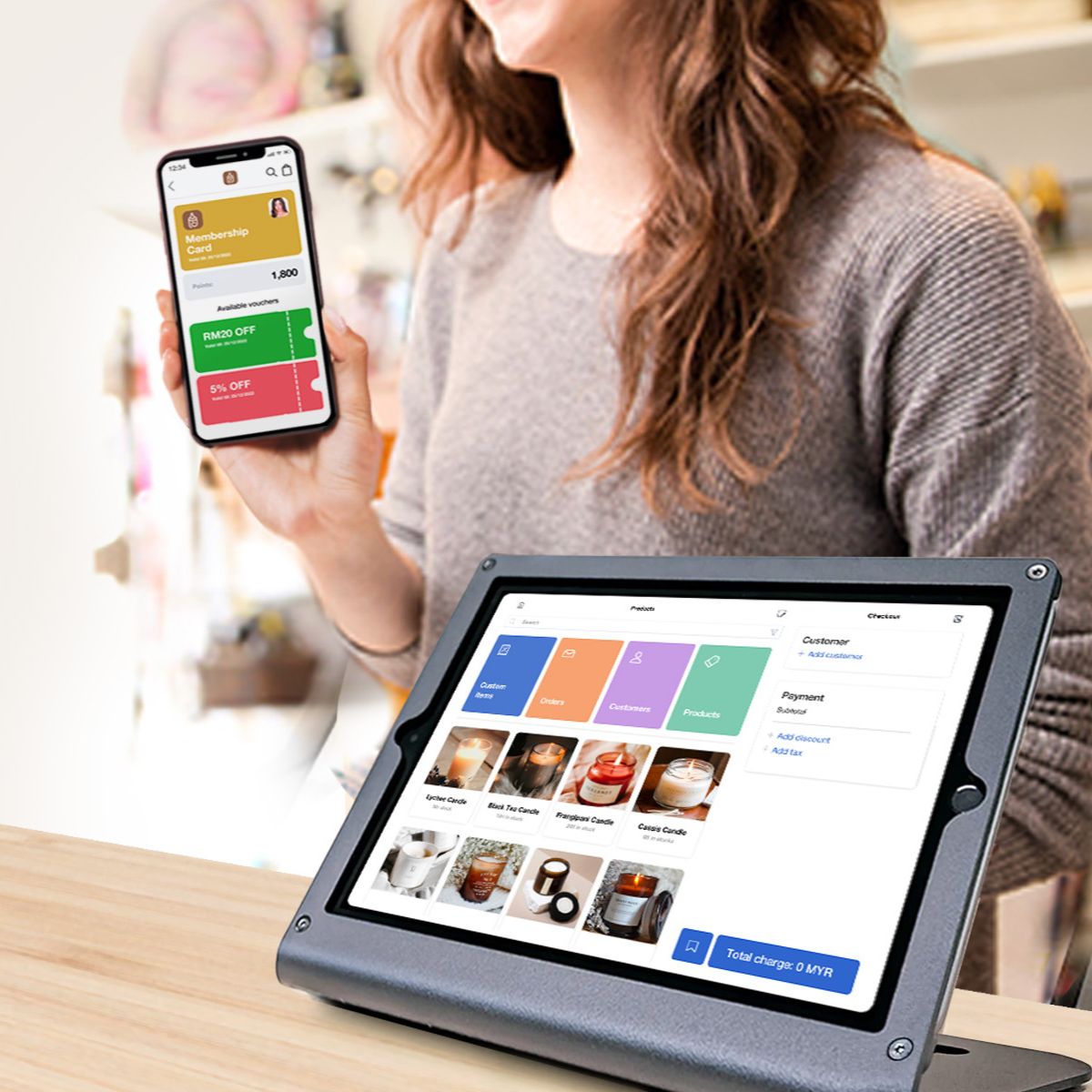 SALES CHANNELS
Expand reach on
multiple sales channels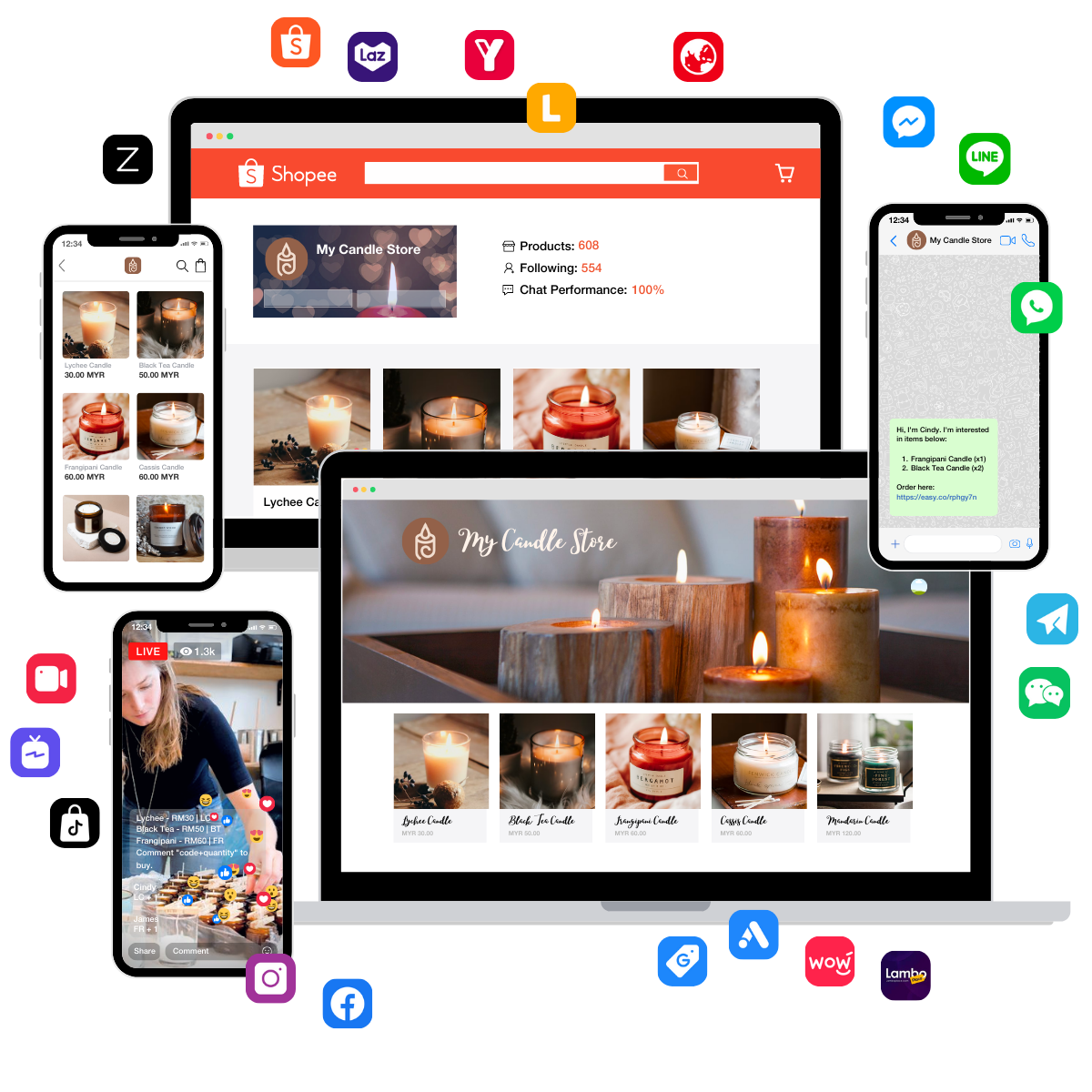 ONLINE MERGE OFFLINE
On a mission for a better
shopping experience
Buy online
Pickup in-store

Bring online customers in-store and let your team offers better experience to customers. Upsell and increase sales during customer pickup.

Buy in-store
Ship to customer

Make sales in-store and ship directly to customers from where you have available inventory. Never lose a sale even when in-store inventory is limited.

Browse in-store
Buy online later

Empower all your outlets with ecommerce capability. Notify customers with items they were interested in but didn't purchase in store.
Join Over 10,000 Retail Brands Using EasyStore
Pick the plan that fits you best
Start wherever you are and we'll help you succeed. No hidden fees.
Billed Monthly
Billed Yearly
What's included
No transaction fee
Up to 5 sales channels
Up to 2 inventory locations
Point-of-Sale app
Membership app
Ecommerce online store
Support payment gateways
Social commerce channels
Chat commerce channels
5 user accounts
10 app integrations
Most Popular
Everything in Essential
No transaction fee
Up to 10 sales channels
Up to 5 inventory locations
Point-of-Sale app
Membership app
Marketplaces channels
Live commerce channels
Loyalty program & points
Messages inbox & broadcast
10 user accounts
25 app integrations
Everything in Growth
No transaction fee
Unlimited sales channels
Up to 10 inventory locations
Point-of-Sale app
Membership app
Membership auto-tiering
Third-party POS integration
Referral program
Wholesale portal
25 user accounts
Unlimited app integrations
Frequently Asked Questions
What do I need to provide to sign up?

You only need an email to sign up an EasyStore account.

Is there any hidden fee?

No. There isn't any hidden fee on our plans. What you see is what you get.

Can I change my plan later on?

Certainly! You can adjust your plan anytime. Our system will generate the top up amount and you only pay on the price you agreed on.

Can I cancel my plan at any time?

Yes, you can. To cancel, go to Settings > Billing > click on "Cancel subscription" and complete the form. This will cancel the auto-renewal but will not affect your current subscription, you are still able to log in to your account and continue using the services until the store expires.

Can I get a refund for my paid plan?

Yes, You can get a refund within the first 7 days of subscription.

How can I pay for subscription?

We accept the following payment methods via PayPal, Visa/Master international and online banking (FPX for Malaysia)

How safe is my data?

We are in compliance with industry security standard AES-256 and TLS on all websites to maintain a secure data storage and data transmission over the internet.