PORTABLE
Take your point-of-sale
to wherever you need it
Retail store

Turn any mobile device into POS - minimize investment on costly hardware.

Pop-up shop

Multiple staff can access to POS on any device at the same time - add/reduce cashier counters based on your business need.

Markets and bazaars

Multiple staff can access to POS on any device at the same time - add/reduce cashier counters based on your business need.

Exhibition booth

Multiple staff can access to POS on any device at the same time - add/reduce cashier counters based on your business need.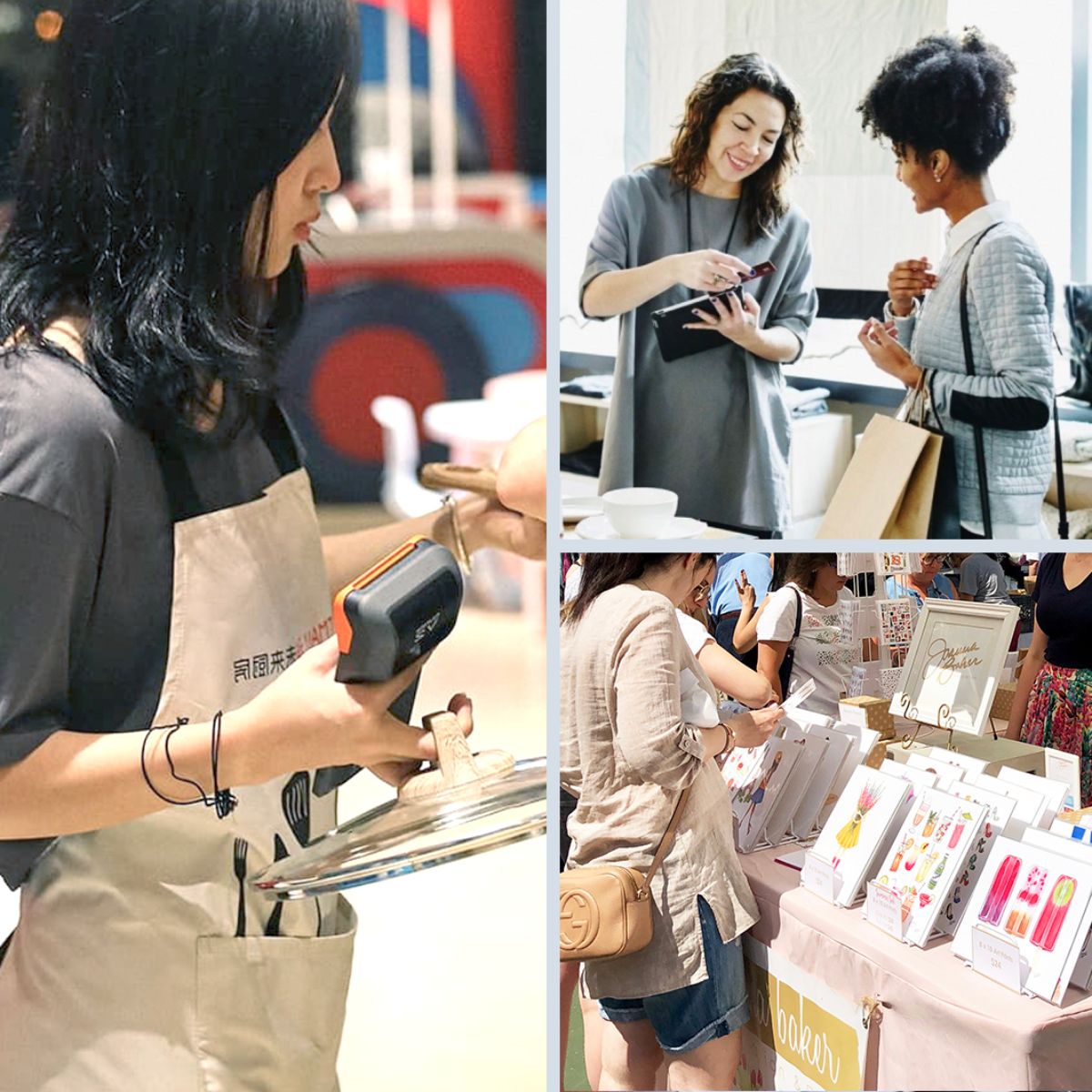 REMARKETING
Turn every customer
into life-long fans
Build an in-depth customer profile and design better customer journey to keep them coming back again and again.
Unified loyalty program

Let your customers to earn/use points/vouchers from any of your offline or online store.

Run targeted marketing campaign

Collect and access to customer's details to personalize marketing campaigns to keep them coming.

Know your customer profile

Retail staff can identify customer name and preference instantly by accessing to customer's details.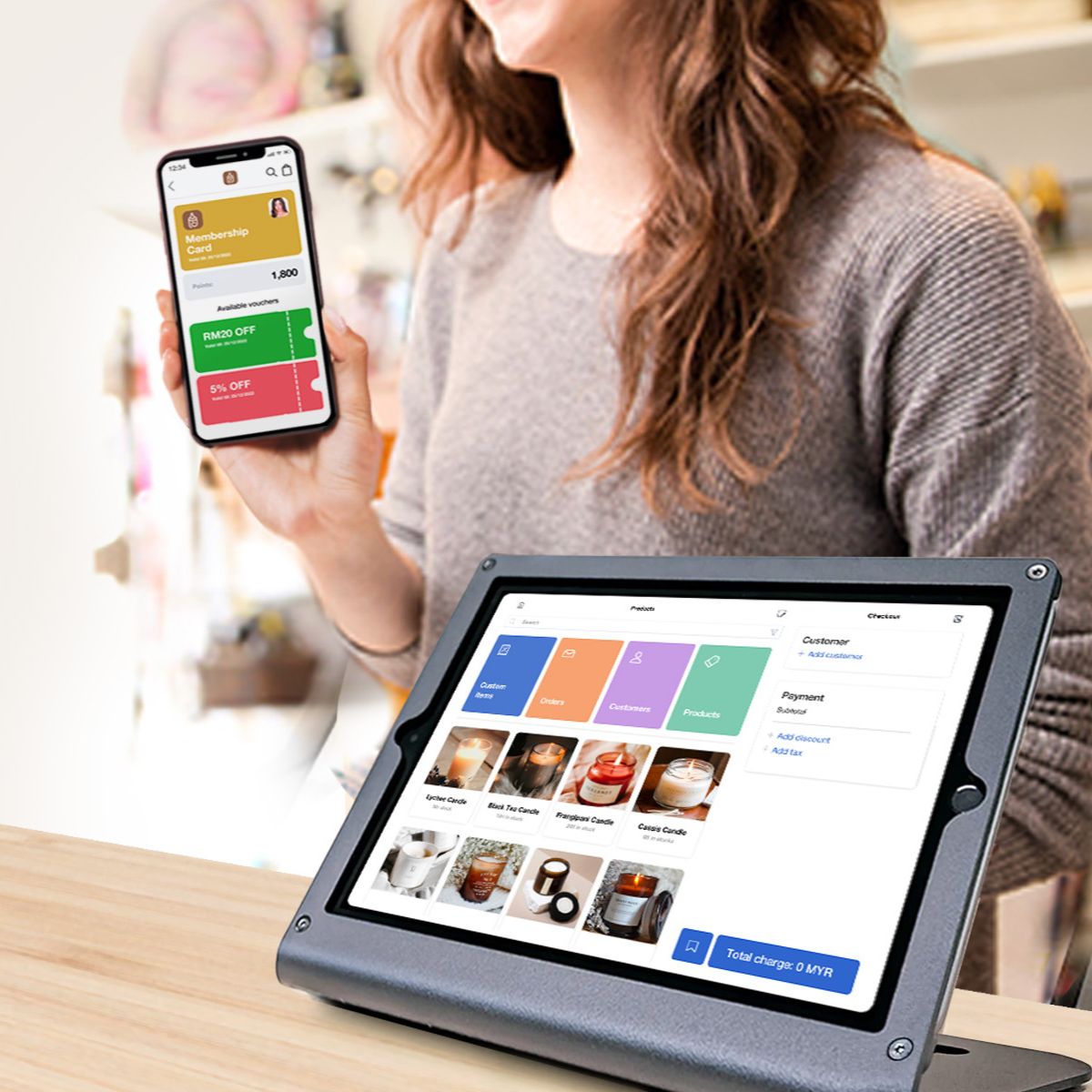 ON THE CLOUD
Run your retail business
with one system
All-in-One Point-of-Sale

Easily manage, save, and retrieve shopping carts to keep checkout moving quickly. Show your smartphone or tablet to let customers checkout on the spot from their own devices. More sales, faster queue.

Portable Inventory Management

Stay on top of your inventory and assign products to different sales channels and locations. Your count will automatically update when an order is fulfilled from that source.

Centralized Reporting System

Make informed decisions with detailed insights into staff members, location, time period, or customers. Data including sales transacted by all desktop and mobile POS, from anywhere.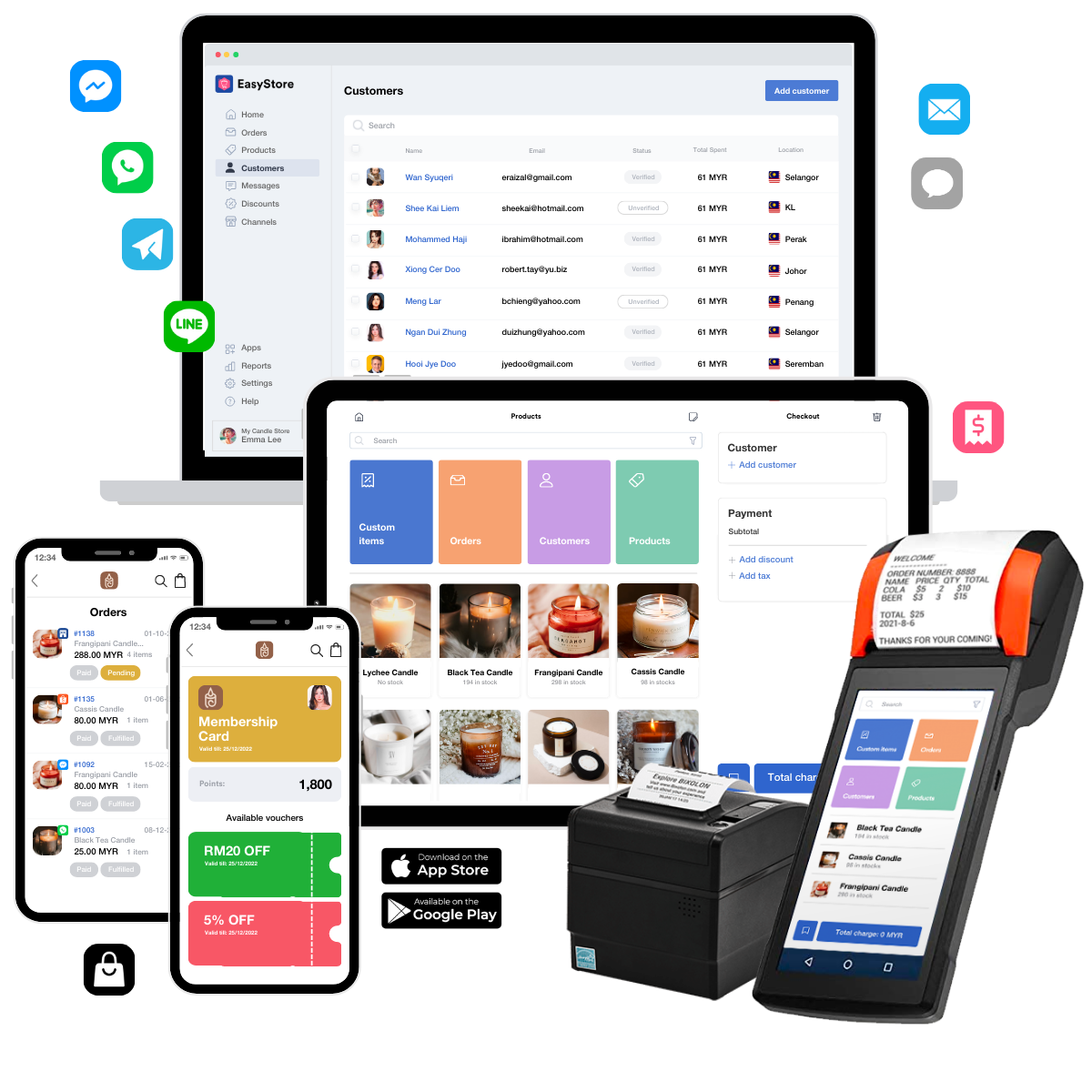 Essential point-of-sale
features for your business
Explore all the essential features you need to run a business.
Barcode Scan

Scan to retrieve information (price, inventory) instantly from the camera on your device.

Product Search

Browse through hierarchical categories or quickly get information about products with fast filtering across all your items.

Print Receipt

Print a receipt via supported bluetooth printers or go paperless via email.

Add Discount

Offer a discount to the customer on the spot by percentage or an amount to increase your sale conversions.
Why businesses use EasyStore
It is important for us to track all the data in one system, and EasyStore made it for us. We are also able to provide a more personalized experience to customers regardless they make the purchase in-store or online.

ADNAA

Azlan Bin Adas — Managing Director

The store design templates are so easy to use, basically just drag and drop. The plugins are amazing too, it saves us a lot of time to build a beautiful and classy online store.

Art of Salmó

Phyllis Teh — Founder
Brands that love EasyStore
Start selling with
flexible point-of-sale
Grow your customer base, generating new and repeat sales.
Frequently Asked Questions
What is POS?

A point of sale is a system to support business that do sales in person, record transaction, order and inventory from your retail stores.
With EasyStore POS, brick-and-mortar stores has everything they need for daily operation and more. Integrating with ecommerce solution provides businesses with the flexibility to merge offline and online operation in providing a seamless shopping experience for your customers.

How do I get started with EasyStore POS?

Get EasyStore POS for free by registering an account with us. Then turn any mobile devices into an all-in-one retail POS by downloading EasyStore mobile app on to any Android, iOS or Huawei smartphone or tablet.

What do I need to pay for when I purchase EasyStore POS system?

You are not required to pay any upfront cost as you can access to our POS system for free. Besides, it also comes with a built-in barcode scanner and e-invoicing compliance. Of course, you can still equip EasyStore POS with additional hardware your business required.