Collect Online Payment at Only RM0.99 Transaction Fee With Payex
By Max · 25th January, 2021
Meet Payex, the upcoming online payment gateway made for sellers who are selling on Facebook, Instagram, online store and more channels. With Payex, you can now collect payment via FPX, local/oversea credit card & automated monthly payment from your customers. The transaction is licensed by Bank Negara Malaysia to secure your payment.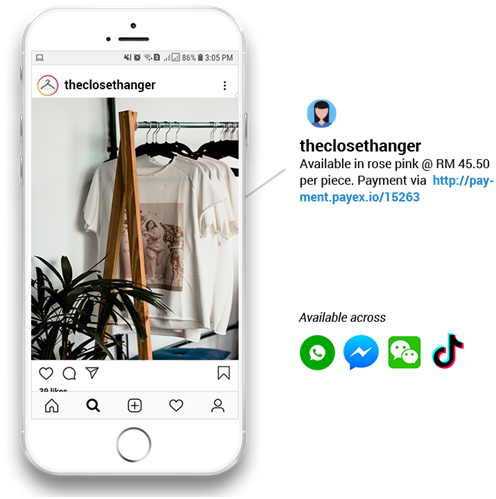 How It Helps Your Online Business
1. Fast payment collector with a one-click payment link
With a click of a button, you can create a payment link and share it with your customers via Whatsapp, Messenger etc. Once payment is successful, you will receive an instant notification. It would be an ideal tool for Facebook/Instagram sellers.
2. Integration with delivery companies in Malaysia
No need to manually key in customer's delivery address anymore. Payex automatically links with delivery companies in Malaysia (e.g. GDEX, Lalamove, Ninjavan, Mr. Speedy and others). Plus, Payex also provides FREE DELIVERY PICK UP from your office and home.
3. Unlimited sub-account to connect all businesses
You can create unlimited sub-accounts under your principal account. Best for sellers who have many agents or branches.
Exclusive Time-Limited Offers for EasyStore Merchants
As long as you're EasyStore merchants, you're eligible to enjoy the special offers for the first 3 months once you sign up:
Faster payment system:

24-hour approval time (include weekends and public holiday)
Next day settlement to your bank account (Automatic)

No charges for set up fee, monthly fee and yearly fee
Special rate on transaction charges:

FPX/Online banking payment via CASA(Current account&Saving account): RM0.99
Credit card: 1.25%(Malaysia) & 2.9% (Oversea)

Free delivery pick-up from your office & home
These offers are only valid until 30 April 2021.
Explore Now
If you wish to have a fast settlement of payment for your business, you can sign up for Payex now to enjoy next-day payment settlement and fulfill your orders without any delay.
How does it work in EasyStore? Read more on our step-by-step guide.
Get latest inside news from EasyStore
Join community to keep yourself updated with the latest updates or insights from EasyStore and connect with other business owners alike.
Join Community
Try EasyStore free for 14 days
With all features unlocked. No credit card required.