Collect Online Payment at Only RM0.99 Transaction Fee With Payex
By Max · 7th June, 2021
Meet Payex, the upcoming online payment gateway made for sellers who are selling on Facebook, Instagram, online store and more channels. With Payex, you can now collect payment via FPX, local/oversea credit card & automated monthly payment from your customers. The transaction is licensed by Bank Negara Malaysia to secure your payment.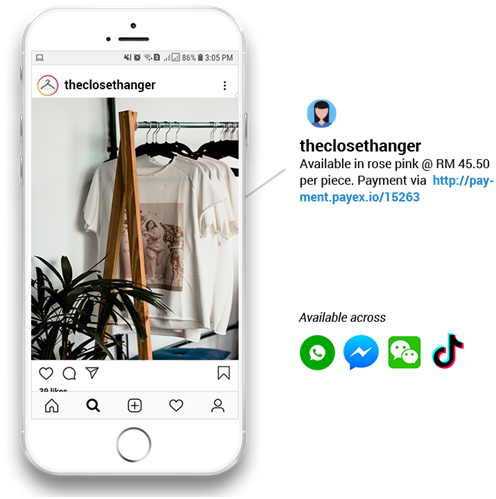 How It Helps Your Online Business
1. Fast payment collector with a one-click payment link
With a click of a button, you can create a payment link and share it with your customers via Whatsapp, Messenger etc. Once payment is successful, you will receive an instant notification. It would be an ideal tool for Facebook/Instagram sellers. Here are the payment methods available in Payex:
Payment MethodsFunctionalities

1. FPX Online Banking

Support all banks in Malaysia

2. Credit/Debit Card

2.1 via entry of 16-digit card number (Local & Foreign)
● Support Local & Foreign Card

● Support Visa, Mastercard, UnionPay

2.2 via login to online banking (Local only)
● Support Visa, Mastercard, UnionPay & AMEX
3. E-Wallet (Grab & Touch 'n Go)

● Direct integration to Grab & TNG

● No manual upload of QR required

4. Auto Payment
Deduct from bank account & credit card automatically. Best for seller with monthly subscription plan
5. Installment Plan
Seller receives money upfront. Accept debit/credit card from all banks.
2. Integration with delivery companies in Malaysia
No need to manually key in customer's delivery address anymore. Payex automatically links with delivery companies in Malaysia (e.g. GDEX, Lalamove, Ninjavan, Mr. Speedy and others). Plus, Payex also provides FREE DELIVERY PICK UP from your office and home.
3. Unlimited sub-account to connect all businesses
You can create unlimited sub-accounts under your principal account. Best for sellers who have many agents or branches.
Exclusive Time-Limited Offers for EasyStore Merchants
As long as you're EasyStore merchants, you're eligible to enjoy the special offers for the first 3 months once you sign up:
Faster payment system:

As fast as 1 day automatic payout to your bank account (no need minimum amount)
Next day settlement to your bank account (Automatic)

24-hour approval time for your application (include weekends and public holiday)
No charges for set up fee, and monthly fee
No contract required. You can come and go anytime you want.
Accept individual sellers without SSM
Delivery pick-up from your office & home- Integrated to major delivery companies in Malaysia- No need to set up separate account
Special rate on transaction charges:

FPX/Online banking payment via CASA(Current account&Saving account): RM0.99
Credit card (Malaysia): 1%
Debit card (Malaysia): 1%
Foreign Card: 2.5%*
Grab & Touch 'n Go**: 1%
3-month instalment plan : 4.5%
Auto Payment: 0.8%*subject to risk assessment**launching soon
These offers are only valid until 31 August 2021.
Explore Now
If you wish to have a fast settlement of payment for your business, you can sign up for Payex now to enjoy next-day payment settlement and fulfill your orders without any delay.
How does it work in EasyStore? Read more on our step-by-step guide.
Start selling online for free
Enjoy automated selling process with zero cost.