EasyStore Phone Account Login
Allow customers to login with mobile phone numbers seamlessly and securely
Available in Business Plan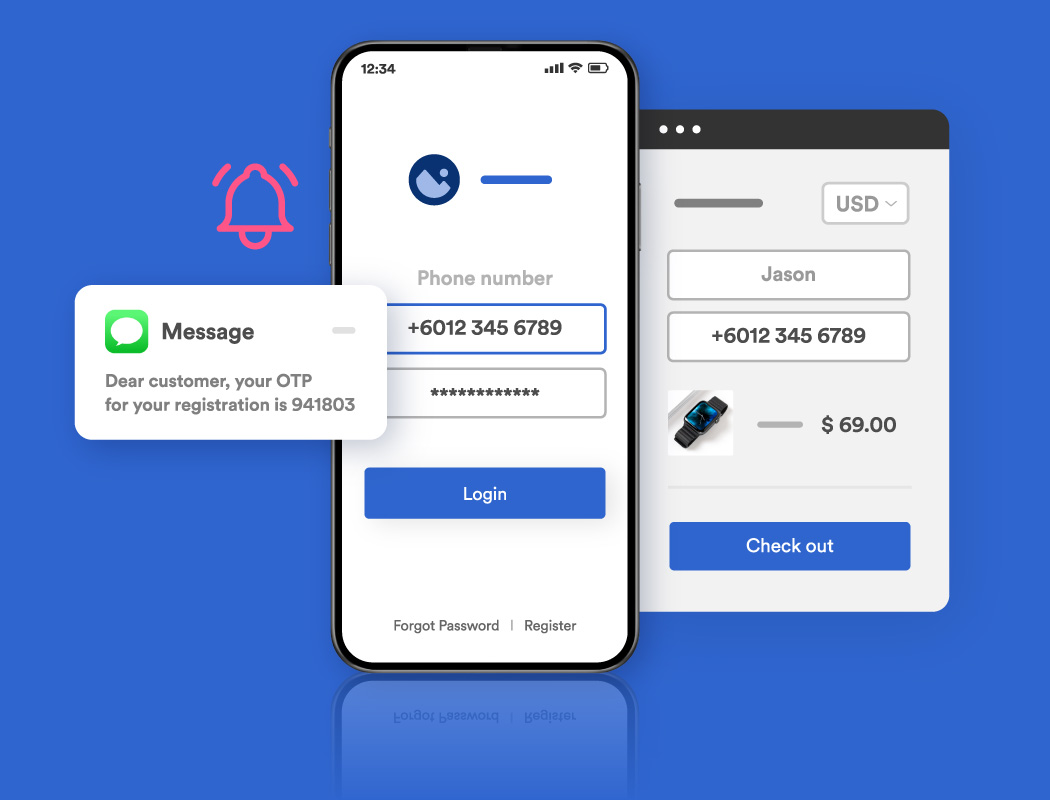 How It Works?
How It Works?
1. Customer visits your website
2. Register with phone number
3. Receive OTP (one-time password) for verification
4. Done account registration
What is EasyStore Phone Login
Phone login also referred to as phone number sign-in, helps users to sign up on a website or platform using their existing login information from phone number. Hence, it skips the need to create a new account.

It is designed to simplify registration and eliminate the manual registration process so that it does not take a long time to sign up for your website.
Almost 80% of shoppers have made an online transaction using their mobile devices in last 6 months.

6 out of 10 consumers say the possibility to shop via mobile is an important factor in brand selection.
Reasons to Use EasyStore Phone Account Login
Prevent Fake Registrations

When a new user registers an account on your website, phone verification can help authenticate their identity, ensuring the newly registered user is who they claim to be. It's a great way to avoid fake account registration on your website.

Prevent Complicated Password Reset Process

Sometimes the customer might forget their password, and they request a password reset. An OTP will be sent to the customer's phone number to verify their identity, which helps reduce fraud and identity theft.

No SMS Fee Occurs

One-time-Password (OTP) messages will be sent to customers to verify their accounts. Usually, OTP will be randomly generated in numeric or alphanumeric, this is to provide an enhanced level of security to customers and also business owners, and most importantly it is free of charge.

Easy and Hassle-Free Registration

Only 2 steps are needed for the customer to sign up for an account at your online store. Fill in details, verify their account with OTP, account done created.

Safer Registration Option

Your customers can with a registered mobile number, securely authenticating the account through an SMS/OTP sent to their mobile numbers.

Build Customer Relationship

SMS are effective tools that allow you to reach your target customer directly with their phone number. It also helps to build relationships with customers by constantly updating them the latest news of your brand.

Improve Mobile Conversions

Business owners can show their consumers that they understand what annoys them— and that they value their time. A rich consumer experience has always been seen providing a more significant consumer growth rate.
13 sales channels ?

Enable any 13 from below

Online Store
Shopee
Lazada
Facebook
Instagram
Messenger
Facebook Live
Google Shopping
Google Ads
WhatsApp
LINE
WeChat
Telegram
Point of Sales
Wholesale Portal
Referral Marketing
91APP
Point of Sales
Wholesale Portal
Referral Marketing

26 user accounts
Unlimited app integrations
10 self-pickup locations
Everything on Standard
Phone account login
Premium sales channels

Point of Sales
Wholesale Portal
Referral Marketing

Broadcast center