EasyStore Product Updates July - September 2019
By Max · 17th October, 2019
Third-quarter of 2019 has passed and we smell Christmas! It also means that it's shopping mode, has your business ready for it? July to September was yet another 3 months full of features and enhancements. Let's recap what we've done in the past 3 months.
1. [Admin Panel] Store Listing with Preview
Instead of scrolling the page to find the store you want to manage, you can now view them with a preview background in a block form.
2. [Admin Panel] Customize Theme via Mobile
We strive to help you doing everything in one place, including managing orders, customers, products, promotions, as well as changing your storefront look.
You can now edit your theme anytime on your mobile or tablet, for example changing a banner for gifting season, even when you're away from your table desk.

2. [Admin Panel] Display Marketplace Order Numbers
It could be a hassle when you need to match your order details on EasyStore and marketplace without having the order numbers displayed on each platform. To ease your daily operation, the order numbers from marketplaces are now displayed on the order listing page, at the same time you can copy the number with a click on it.
3. [Admin Panel] Search & Filter Marketplace Orders
Not only you are able to see the order numbers from marketplaces, but now you can also search the specific order using the newly launched search and filter function.

4. [Admin Panel] - Bulk Download EasyParcel Airway bills
Say bye-bye to tired fingers! Great news to all EasyParcel users. Instead of printing the airway bill one by one, you can now download all the airway bills for selected orders at once on your order listing page.
5. [Admin Panel] - Quick Edit Sequence for Product Variants
Previously, you will need to re-insert your variant details if you wish to arrange the sequence of the variants. We shorten the process for you! With this update, you just need to change the variant name, and it will auto-update the details that belong to the variants.
For example, below is the original sequence.
Then, we wish to put [Tablet] as the first variant. We change the name.
The sequence is now changed along with the inventory, price.
6. [Admin Panel] - Birthday Field Added For Registration
A new way to bond with your customers! Knowing their birthday can allow you to do more than just sending a birthday wish. Utilize this information to build your relationship with them, such as sending them an exclusive birthday voucher, reward extra shipping credit, shopping discount for entire birthday month.
Note: Birthday field is only applicable to specific themes- WAVE, LUCKY, X-FORCE, and the upcoming new themes.
7. [Admin Panel] - Customer Profile Page in New Look
Getting useful information can help in executing the right marketing activities. We have made some changes for the customer profile page:
Standardize phone formatting to international format (e.g. +600134455667)
Auto-calculate the next birthday and zodiac
Auto-generate google map from address
Display [Bought items] of the customer
Auto-switch first & last name for chinese name (e.g First name: 李, Last name: 永勝)
Previous display > 永勝李 | New update display> 李永勝
8. [Feature] Auto Send Payment Reminder
Sometimes humans can be forgetful, not only your customers might forget to make the payment, but you might also forget to send them a reminder. You can now let us do the job for you. Turn on auto-send payment reminder feature and we will help to remind your customer (via email) 6 hours after an order is made.
9. [Feature] Hidden Facebook Messenger Pop Up
It could be annoying when there are unnecessary pop-ups block your customers from browsing your website. Instead of popping out to help, we hid the pop up for Facebook Messenger. It means that when your customers land on your website, they will only be prompted with the pop up when they click on the chat icon.
10. [Feature] Facebook Marketing Center
In the past, EasyStore's users installed Facebook-related apps which they think possibly helpful to their business. And now, you can connect with your Facebook Business page and turn on useful features with just a few clicks. We assemble most of the important Facebook-related features on our Admin Panel and we named it Facebook Marketing.
By this, our merchants do not need to install the apps separately and go through the setup progress for each feature. This new update only requires a one-time setup to activate the features:
Facebook Messenger

Facebook Store

Facebook Pixel

Facebook Dynamic Adverts

Facebook Promoter
Read more about Facebook Marketing Center.
11. [Theme] New Theme - WAVE
Finding the right design for your brand is important in defining your brand positioning, and this is why we're working on launching more themes to help on that. The new theme came with multiple changes and enhances in layout and functionalities, mainly focusing on the shopping experiences of your website visitors. Read more about WAVE theme.
12. [Storefront] - Thai Language Now Available
Looking to expand to Thailand anytime soon? Don't wait any longer. Not only we support Thailand's payment methods, the great thing is you can also localize your store with Thai language. This update will auto-display your store in the Thai language, such as login, add to cart, menu, default collection name, checkout buttons.
13. [Storefront] Prevent Spammy Customers
Getting sales is excited, but when it's not a real customer, it could be frustrating. With the new update, we will auto-detect if the information is provided by a robot and will not record the spammy order details into your EasyStore.
14. [App] - Use Shipping Details as Recipient for EasyParcel Service
You must have known that we will help you to auto-fill customer's details on airway bill if you're using EasyParcel service. From the feedback we received, some buyers might not be the recipients and they're actually sending the product as a gift. In this latest update, we began to take shipping details as the recipient instead of the billing details.
15. [Payment Gateway] 14 Payment Options Added to iPay88
There are 14 more payment options included for iPay88 users to collect payments. Not forget to mention that EasyStore's merchants are entitled to claim a free iPay88 account too. Ask us for more information at support@easystore.co.
The latest added payment options as follow:
Public Bank Online
Credit Card (MYR) Pre-Auth
Pay4Me
BSN Online
Bank Islam
UOB
Hong Leong PEx+ (QR Payment)
Bank Muamalat
OCBC
Standard Chartered Bank
HSBC Online Banking
Kuwait Finance House
Boost Wallet
VCash
Payment option that being withdrawn:
16. [Payment Gateway] Stripe Connect Now Available
Looking for a payment gateway that can be set up quick? Use Stripe Connect. Another good news is, FPX options are available for Stripe Malaysia users too (coming soon). In recent, EasyStore has officially partnered with Stripe to help more businesses to set up and launch their online store in the fastest way. By using Stripe Connect, you can apply your Stripe account within your EasyStore right away. Connect Stripe with your EasyStore.

17. [Payment Gateway] Omise Now Supports Credit Cards 3DS
EasyStore is committed to protecting all of our merchants against fraud with security's best practices. If you've been using Omise as your payment method, 3-D secure is now supported. According to Omise, 3-D Secure adds another level of protection to both merchants and cardholders. With the service enabled, chances of fraud are reduced significantly as each transaction is authenticated with a second factor authentication provided by the card issuing bank (OTP or SMS token).
18. [Service] Migration Service from Other Platforms
We often receive inquiries that many of the retailers are hoping to use EasyStore and ask if we can help in data migration. After preparing for some time, YES! We're now opened for migration service! We're happy to help out and get your data migration done within a short period of time. If you're currently using another eCommerce platform but wishing to shift to EasyStore, let us help you, contact us at support@easystore.co.
19. [Partner] - Billplz Offers 60 Free Transactions
Not only you can get a free Billplz account to collect online banking payments, but we're also partnering with Billplz to waive the transaction fee for your first 20 (or 60 when you sign up Billplz Preferred Plan) online banking payments. In order to enjoy this, you just need to be EasyStore's user and register an account via EasyStore with Billplz. Here's the guide to redeem 20 free transactions.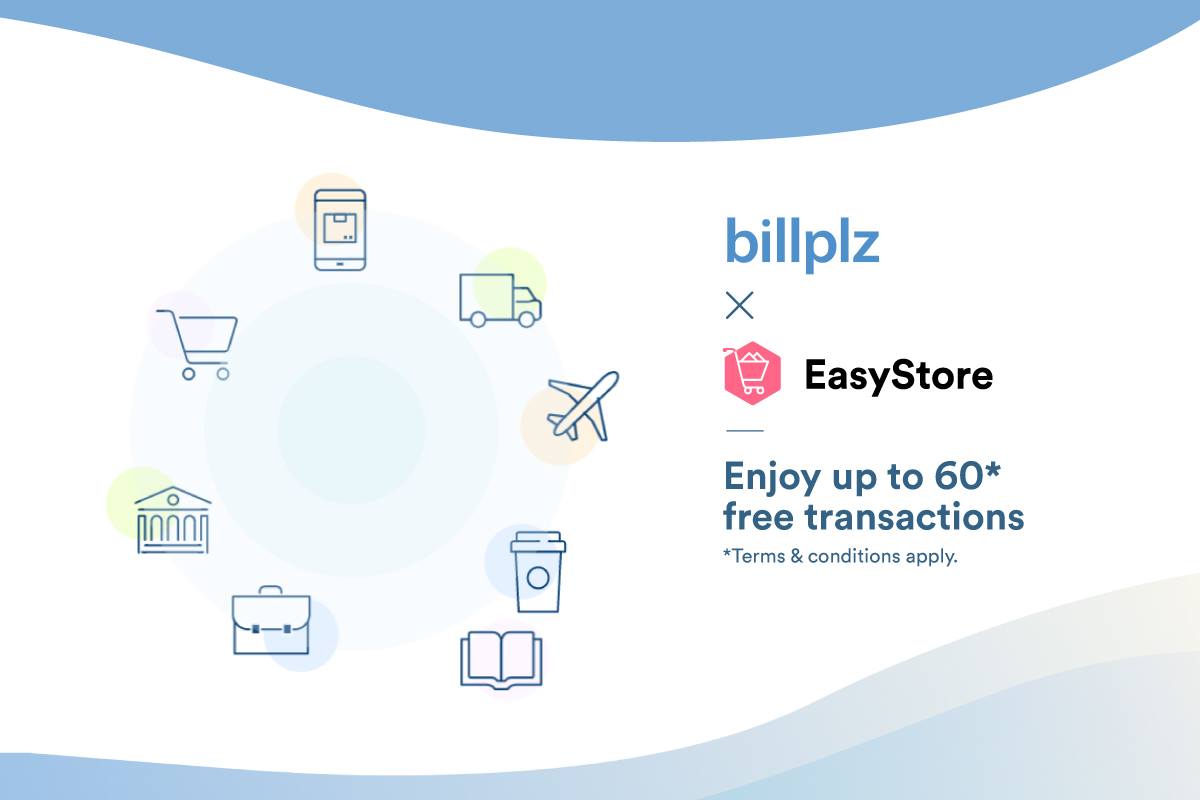 It has definitely been a fruitful quarter, and we can't wait to share more again in the next quarter!
Build your own Ecommerce brand
✅ 0 Transaction Fees
✅ No technical headaches
✅ Mobile-Optimized Shopping Cart
✅ 90+ Powerful Apps
Try EasyStore free for 14 days
With all features unlocked. No credit card required.