Why you should start multi-channel selling today
By Amirul Mokhtar · 4th November, 2016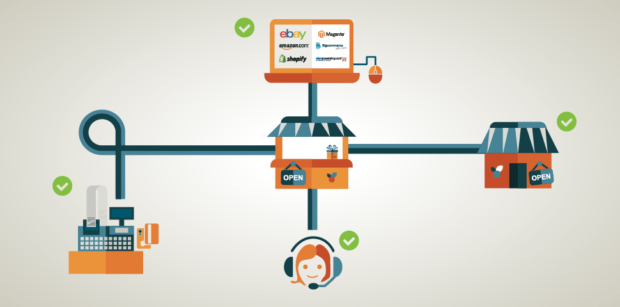 One of the most common questions that every aspiring ecommerce entrepreneur have when starting out are where should I sell, which platform will get the most sales for my business and where do I spend my marketing budget. In my opinion, to be a successful ecommerce business you need to start your own online store to build a foundation of your own sales and brand. But you also need to sell across multiple channels which helps you spread the risk associated with selling online. In this post I will share four reasons why you should start multichannel selling today.
More reach and exposure
If you think that you can just build your own website, optimize it for search, and wait for the traffic to come in organically. Then, you are dead wrong. Organic traffic takes more effort than just optimizing 'on-page' and it takes time to build. If you sell across your own website, social media channels, and online marketplaces, you can triple or even quadruple your exposure. And greater exposure means more sales. That's why you're in business, right? This will give you the momentum while you are building your online store brand. Related: 4 ways to make your first ecommerce sales Now, this doesn't mean that you should blindly jump into every channel at once. Each channel is very different and requires a new period of adjustment, learning, and optimization. So start with one and add a second or third slowly.
Reduced business risk
I mentioned a bit about this earlier. Everyone has heard the saying "don't put all your eggs in one basket". Well, it applies to ecommerce as well. It's not a good idea to leave the future of your business in the hands of a single entity. What if some drastic changes were to happen to the channel that you rely most on? And we've seen this happen with Rakuten recently (Read the story here) I've also seen countless of Facebook and Instagram accounts being banned. I've even experienced this myself and it's not fun at all. If you are selling on multiple channels, the impact of those disasters won't be so drastic. At least you still have other channels to fall back on. So, don't put your business on one single channel! Related: How to transition from selling on Facebook and Instagram to your own online store
Reduced marketing cost
One thing about online marketplaces is that they do the marketing for you. They are already bringing in a good amount of traffic and not just any kind of traffic, but prospects that are ready to buy. Think of it like renting a store lot or kiosk in a shopping mall that already has a lot of foot traffic. There are some costs to onboard these platforms. If you are just starting out, you might want to go for platforms that only charges when you get sales. They will take a certain percentage of your sales amount as commission for bringing people to purchase from you.
Repeat customers
We've heard numerous times that repeat customers spend more than new customers and it costs a lot more to acquire new customers than to keep a current one. You can leverage off online marketplaces to help reduce that cost of acquiring new customers and focus on turning customers into repeat customers. Popular marketplaces have already gained trust from the consumers and you can take advantage of that. By listing your products on popular marketplaces, it will have more credibility and they won't have second thoughts once they decided they want your product. But you still need to put effort to be more convincing and stand out from your competitors Branding your business in marketplaces will be difficult because of the nature of the platform. But after their successful transaction, it is your time to shine. You can use the after sales service to create a lasting impression and encourage them to become repeat customers. Provide incentives such as coupon code for discounts when purchase through your online store, in the shipment. Related: How to transition from e-marketplace to your own online store
Conclusion
Doing ecommerce is not about sticking to just one online selling platform and working on it until you become successful. Ecommerce is about providing convenience to consumers and providing a great overall buying experience. This means that you need to sell where your customers are while building a foundation of your own sales and brand. Selling on multiple channels is a great way to reduce the risk and also grow your business but having to list products on different channel can be time consuming. That is where EasyStore comes in. Multi-channel selling is easier when you don't have to upload product information over and over again. Find out more about EasyStore's multi-channel ecommerce https://www.easystore.co/multi-channel-selling
Try EasyStore free for 14 days
With all features unlocked. No credit card required.